1/8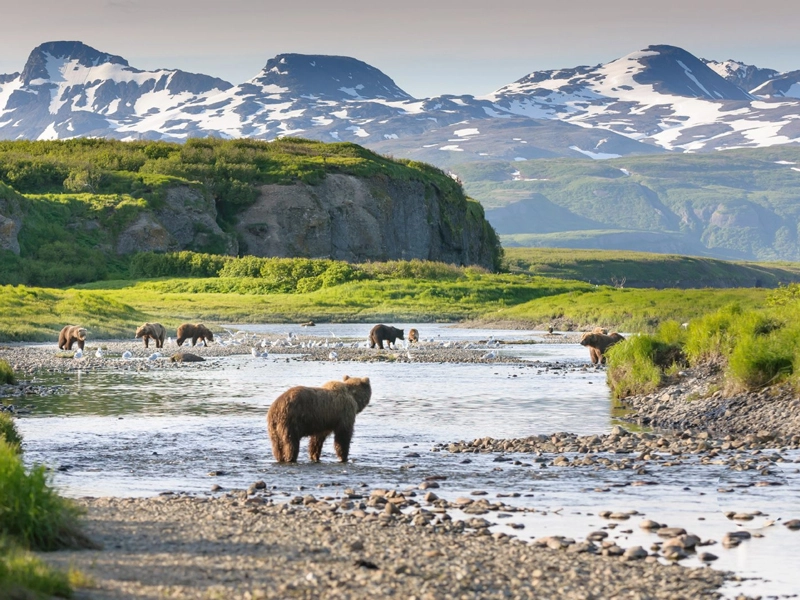 Alaska Rail Vacation | Fly-In Bear Viewing
2/8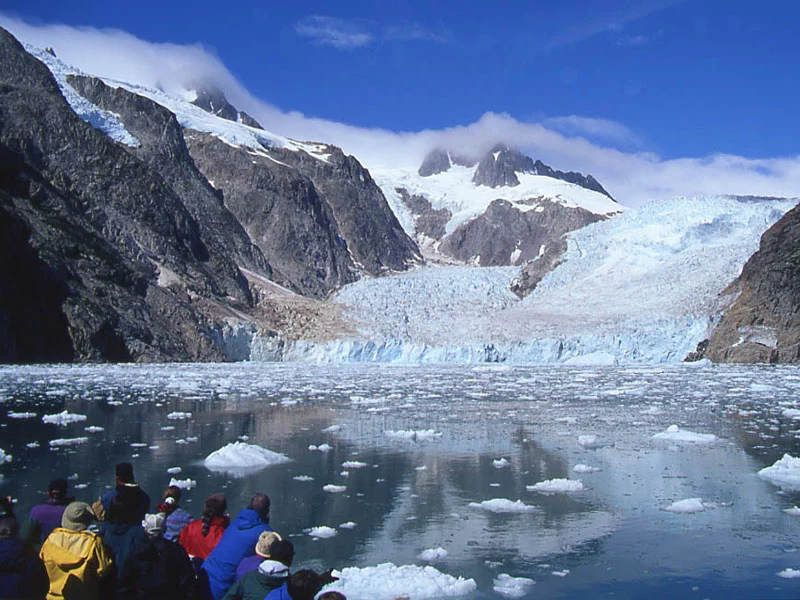 Alaska Rail Vacation | Kenai Fjords Cruise
3/8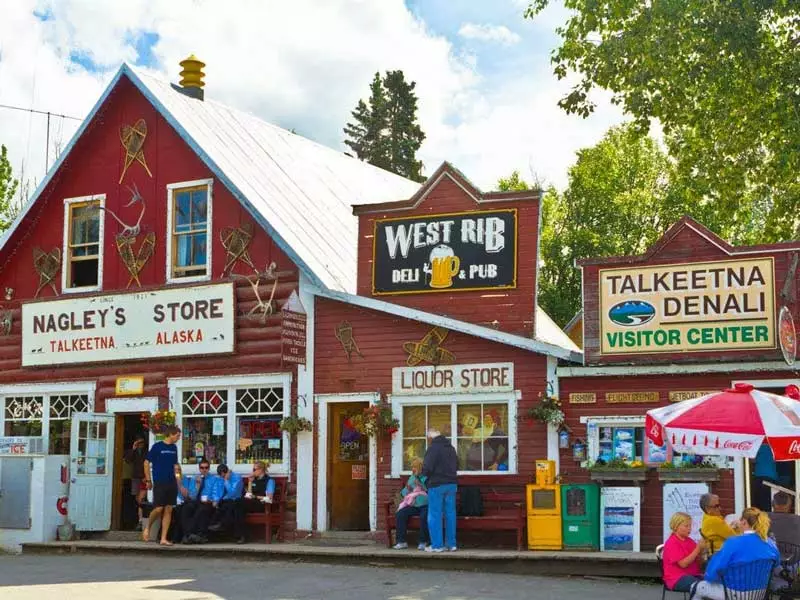 Alaska Rail Vacation | Talkeetna Main Street
4/8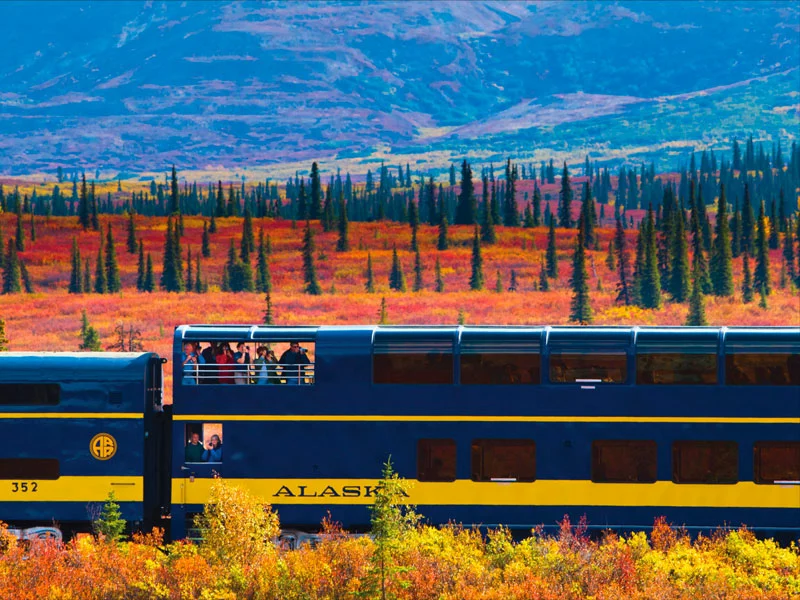 Alaska Rail Vacation | Alaska Railroad Goldstar Service
5/8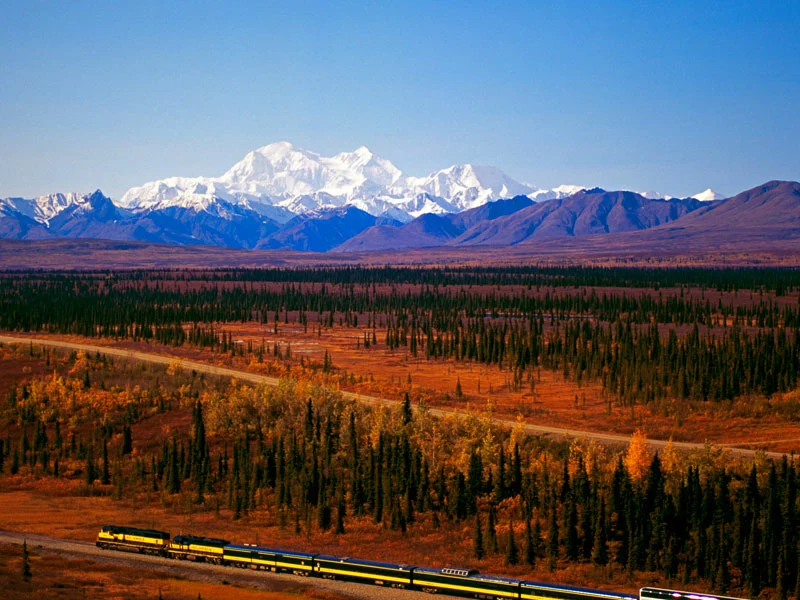 Alaska Rail Vacation | Denali National Park
6/8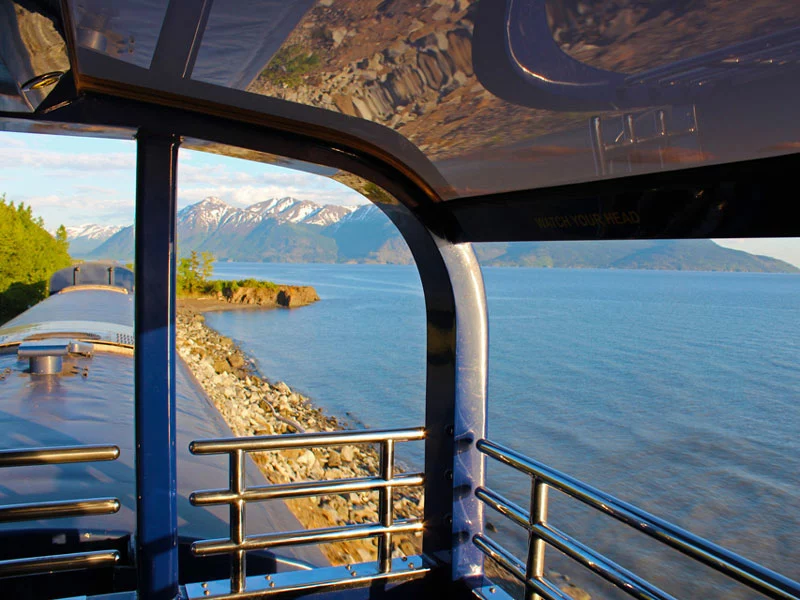 Alaska Rail Vacation | Alaska Railroad Goldstar Service
7/8
Alaska Rail Vacation | Anchorage Visitor Centre
8/8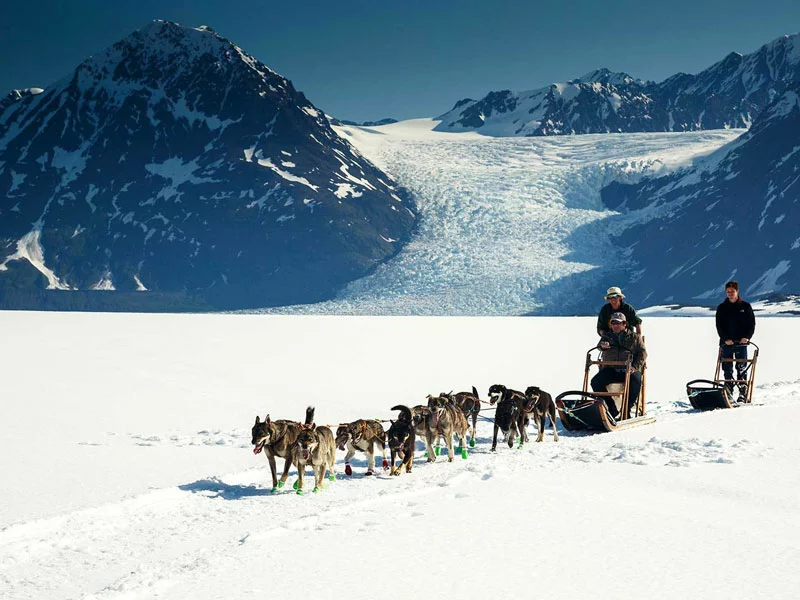 Alaska Rail Vacation | Heli Dog Sledding
Signature Alaska Rail Vacation
9 Days / 8 Nights
Anchorage to Fairbanks or Fairbanks to Anchorage
INTRODUCTION
Visit popular destinations like Kenai Fjords and Denali National Park on this 9-day signature Alaska rail vacation.
Enjoy bear viewing by floatplane in Redoubt Bay, a Glacier Dog Sled Helicopter Tour in Girdwood, a cruise in the Northwestern Fjord and Goldstar Service on Alaska Railroad.
Everything is included on this signature trip!.
Day 2
Anchorage | Floatplane to Redoubt Bay or Chinita Bear Viewing
Day 3
Anchorage to Girdwood | Glacier Dog Sled Heli-Tour
Day 4
Girdwood to Seward | Small Group Tour
Day 5
Seward | Kenai Fjords Northwestern Fjord Cruise
Day 6
Seward to Talkeetna | Coach
Day 7
Talkeetna to Denali National Park Entrance | Alaska Railroad
Day 8
Denali | Freedom of Choice - Choose 1 of 4 Excursions
Option 1. Denali Highway Jeep Excursion | Self-Drive Guided 4x4 Excursion
Option 2. Tundra Wilderness Tour | Coach Tour
Option 3. Upgrade Option: Denali Summit Flightseeing | Small Aircraft
Option 4. Upgrade Option: Denali Glacier Landing | Helicopter
Day 9
Denali National Park Entrance to Fairbanks | Alaska Railroad
MAP
View map
DETAILED ITINERARY
Read more
INCLUDED
Read more
WANT TO KNOW MORE?
Arrange a call with an Alaska Rail Travel Designer and bring your vacation to Alaska one step closer!
Schedule a Call
DATES & PRICING
Read more
REVIEWS
We saw spectacular sights, met warm and friendly people, saw the Northern Lights, and made a lifetime of memories. We want to thank you for the wonderful job you did in setting everything up, and also for your courteous assistance and recommendations along the way.
Nick Florida, United States
We had a fantastic time. Everything ran like clock work, the activities we did were extremely well organised, informative and above all fantastically enjoyable. We cannot thank everyone enough for their professionalism and organisational skills. To top everything off we saw the most amazing display of the Northern Lights, something I will never forget.......we certainly will be back.
Hazel Scotland
Excellent trip. Well planned out. We were able to get all our additional destinations accommodated.
Paul Williams Canada
Alaska by Design created a perfect itinerary for my clients. They returned with great memories and were extremely pleased with all aspects of their trip.
Michael Figueriedo Spain
Nothing was too much trouble for Jennifer or Karen when we were planning our holiday. They were able to tailor our trip to what we wanted. We have recommended Alaska Rail Vacations to our friends and they also had an amazing experience.
Anne Mathews Australia
Alaska Rail Vacations were very helpful and had a quick turn around on price quotes. All my clients have enjoyed their trips thanks to the arrangements made by there amazing team
Tracey Los Angeles, CA
Excellent services!Our clients were extremely satisfied with the itinerary, hotels and tours you have offered.We will contact you again for our next clients.Thanks again for all!
Polona Australia
I enjoyed working with Alaska Rail Vacations, I was introduced to them by Debra Roberts and Karen did a great job for me with a couple of my reservations
Haleh M California, USA
The team at Alaska Rail Vacations never fail to off excellent service. Clients enjoyed a wonderful experience! Our go to company for Alaska
Tina M Los Angeles, CA
Signature Alaska Rail Vacation
Start planning your tailor-made rail vacation in Alaska by contacting our rail specialists
Call 1 800 686 1694US
Monday - Friday: 8am - 5pm PST
, Saturday: 8am - 4:30pm PST
, Sunday: 11am - 5pm PST
Send an email sales@alaskarail.com